Welcome to the SaGa Wiki! We have moved off Fandom very recently, so things are still being set up around here. Please note that some images did not successfully transfer, and will need to be manually reuploaded or replaced.
---
Note: Keep in mind that once you have an account, you must wait one day and make 5 edits to become autoconfirmed. This allows you to skip questions while editing, to create new articles, and to upload images.
SaGa THE STAGE: Shichi Eiyū no Kikan
From SaGa Wiki
Jump to navigation
Jump to search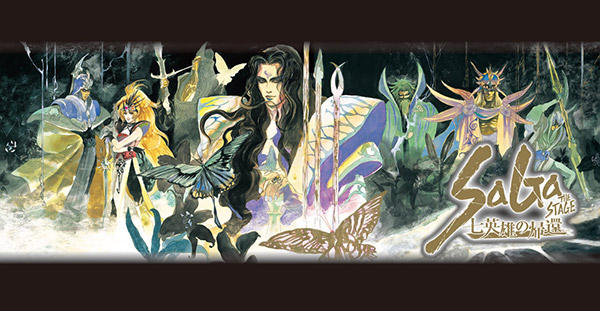 SaGa THE STAGE: Return of the Seven Heroes (SaGa THE STAGE ~七英雄の帰還~) is a theatrical production based on Romancing SaGa 2. Its first performance was held at the Toda City Culture Hall in the Saitama Prefecture on September 21, 2018. The play is currently not localized, but does have a fan translation which can be accessed at the fan translators' site SaGa Stage Fanpage.
Cast List
[
edit
]
Merchandise
[
edit
]
The following is a list of merchandise that was available for purchase during the performances:
| Item Name | English Translation | Original Price | Notes |
| --- | --- | --- | --- |
| 公演 | Performance Book | 2,500 yen | Size: A4 / 52 pages / Was also released for a limited time on the Square Enix E-shop |
| クリアファイルセット | Clear File Set | 1,000 yen | Set of 2 / Size: A4 |
| チケットホルダー | Ticket Holder | 1,000 yen | Features the main graphic |
| クリアポスター | Clear Poster | 1,000 yen | Size: A3 / Features the main graphic |
| 公演台本 | Performance Script | 1,500 yen | None |
| 「SaGa THE STAGE ~七英雄の帰還~ 」DVD | SaGa THE STAGE: Return of the Seven Heroes DVD | 8,964 yen | The collector's edition needed to be preordered at the venue or directly through Toei Video. |
| SaGa THE STAGE ~七英雄の帰還~ Original Soundtrack | SaGa THE STAGE: Return of the Seven Heroes Original Soundtrack | 2,700 yen | Those who pre-ordered at the venue received a signed copy from Kenji Ito |
| Tシャツ(ロゴ) | T-shirt Featuring the Logo | 3,000 yen | Color: Black / Size: S/M/L/XL |
| Tシャツ(ノエル) | T-shirt Featuring Noel | 3,500 yen | Color: White / Size: S/M/L/XL |
| ジャバラポストカードセットA | Accordion Fold Postcard Set A | 1,000 yen | Features six illustrations by Tomomi Kobayashi: Rocbouquet, Wagnas, Dantarg, Final Emperor & Empress, a scene with the Bard and Final Emperor |
| ジャバラポストカードセットB | Accordion Fold Postcard Set B | 1,000 yen | Features six illustrations by Tomomi Kobayashi: Bokhohn, Subier, Kzinssie, Gerard, Leon crowning Gerard, Seven Heroes group |
| スマートフォンリング | Smartphone Ring | 2,500 yen | Material: Iron / Inner box & outer case included / Features the logo |
| クラッチバッグ | Clutch Bag | 2,500 yen | H22cm x W32.5cm / Material: Cotton / Features the logo |
| トートバッグ | Tote Bag | 2,500 yen | H35cm x W39cm x D10cm / Material: Cotton / Features the logo |
| ブロマイドホルダー | Cast Photo Holder | 2,500 yen | 20 pages with a total of 40 pockets / Size: Large / Holds up to 80 sheets |
| ブロマイドセット | Cast Photo Set | 1,000 yen | 4 large photographs per set / 29 sets / Cast members of the Seven Heroes each had two sets of character photographs. |
| トレーディングミニクリアファイル | Mini Clear Files (Trading) | 500 yen | Blind bag product / Size: A6 / 23 to collect |
| トレーディング缶バージ | Tin Trading Badges | 500 yen | Blind bag product / Size: 40 mm / 29 to collect / Each member of the Seven Heroes had two variations to collect. |
Original Soundtrack -Tracklisting
[
edit
]
Music: Kenji Ito, Nobuo Uematsu / Arrangement: Kenji Ito, Minako Seki
Music: Kenji Ito / Arrangement: Kenji Ito
Music: Kenji Ito / Arrangement: Kenji Ito
Music: Kenji Ito / Arrangement: Kenji Ito, Ryo Yamasaki
Music: Kenji Ito / Arrangement: Kenji Ito
Music: Kenji Ito / Arrangement: Kenji Ito
Music: Kenji Ito / Arrangement: Kenji Ito
Music: Kenji Ito / Arrangement: Kenji Ito, Minako Seki / Lyrics: Akitoshi Kawazu / Vocal: Yoshinobu Hirayama, Ayaka Umeda
Music: Kenji Ito / Arrangement: Kenji Ito
Music: Kenji Ito / Arrangement: Kenji Ito
Music: Kenji Ito / Arrangement: Kenji Ito
Music: Kenji Ito / Arrangement: Kenji Ito, Minako Seki /Lyrics: Akitoshi Kawazu / Vocal: Nana Yamada
Music: Kenji Ito / Arrangement: Kenji Ito
14 私の旅が始まる(伝説は始まる by Nobuo Uematsu)
Music: Nobuo Uematsu / Arrangement: Kenji Ito / Lyrics: Akitoshi Kawazu / Vocal: Aya Tabata
Music: Kenji Ito / Arrangement: Kenji Ito, Minako Seki, Ryo Yamasaki
「Re:Birth Ⅱ -閃-サガ バトルアレンジ」から『Re:Birth -閃-Ⅱ 七英雄バトル』 Music: Kenji Ito / Arrangement: Kenji Ito
「Re:Birth Ⅱロマンシングサ・ガ バトル 伊藤賢治アレンジアルバム」から『Re:Birth Ⅱ-ラストバトル from Romancing Sa・Ga 2』 Music: Kenji Ito / Arrangement: Kenji Ito
Music: Kenji Ito / Arrangement: Kenji Ito / Lyrics: Akitoshi Kawazu / Vocal: Akari Taniguchi
Music: Kenji Ito / Arrangement: Kenji Ito
Music: Kenji Ito / Arrangement: Kenji Ito
Music: Kenji Ito / Arrangement: Kenji Ito, Minako Seki
Gallery
[
edit
]