Welcome to the SaGa Wiki! We have moved off Fandom very recently, so things are still being set up around here. Please note that some images did not successfully transfer, and will need to be manually reuploaded or replaced.
---
Note: Keep in mind that once you have an account, you must wait one day and make 5 edits to become autoconfirmed. This allows you to skip questions while editing, to create new articles, and to upload images.
Karl
From SaGa Wiki
Jump to navigation
Jump to search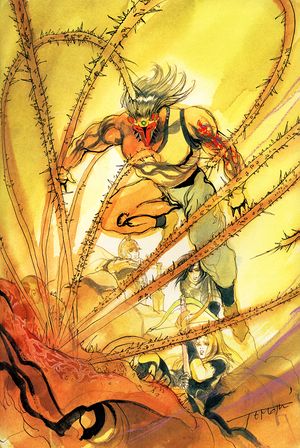 Karl is a supporting character from Romancing SaGa 2. He serves as the head of the Dragon Lair. He is obtainable as a playable unit following completion of his sidequest.
Profile
[
edit
]
Appearance
[
edit
]
Karl has long, white hair and covers his face with a red mask. His fit body is made visible by his sparse clothing. His sprite form shows him wearing a slim red tank top and blue pants.
Personality
[
edit
]
Following some talk with the citizens of Nibel, Gerard heads to the Dragon Lair to meet with the brawlers. He encounters Karl who tells Gerard that they are unable to eliminate the slime creature in the Fiends' Cloister because it is impervious to physical attacks. Gerard offers to assist in defeating the slime creature as Karl warns him to watch out for its electric properties.
Branch A
[
edit
]
Accessible only if you defeat the slime in the Fiends' Cloister
After defeating the slime that seemed to be the perfect counter to the Dragon Lair monks' fighting style, Gerard returns to report to Karl that the way is clear for the Monks to regain their standing by clearing out the remaining fiends in the cloister. Karl and the monks are grateful for the chance to restore their honor and the townspeople once again hold the monks in high regard, swelling the ranks of the Dragon Lair. Karl happily offers to serve the Emperor should the need arise, as do his successors.
Branch B
[
edit
]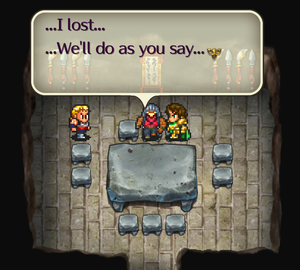 Accessible only if you defeat all the monsters in the Fiends' Cloister
After defeating the gargoyle in Fiends' Cloister, Gerard heads back to the Dragon Lair. Talking to Karl will initiate a battle between him and Gerard as Karl feels his honor has been besmirched. Karl is fought in battle as the Master Dragon. Defeating Karl in battle will make him yield to Gerard. The popularity of the brawlers have waned following Karl's defeat, emptying the training room in the Dragon Lair of most, if not all of its potential candidates. The citizens of Nibel have also become inclined to believe in the Empire, with some wishing to join the ranks of the Avalon soldiers.
Gallery
[
edit
]